Testimonials
It is so nice to be 'fitted' into a great pair of quality shoes. Wonderful staff. Small shop with tons of service and selection.

Google Review
Small local shop with great customer service. The quality of the brand's they carry is tops. If you want shoes to are well made, unique and will last check out this shoe store gem.

Google Review
Excellent and friendly service. Stylish and quality products 

Facebook Review
Excellent service with a personal touch!

Google Review
Welcome to Deb's Shoe Gallery!
With over 50 years of combined customer service, Deb, Tayler & Beth are here to provide you with top notch, one-on-one customer service when showing you a wide variety of quality footwear, accessories & shoe care products.
Our mission is to greet, properly fit, & educate each customer that walks through our doors. Here, our staff will take the time to listen and show various styles that fit each of our customer's needs & desires. We provide you with a friendly environment with quality products from trusted brands you know and love. Many of our brands have styles that can accommodate narrow, medium and wide width feet, while other brands provide styles that are orthotic friendly.
We here at Deb's Shoe Gallery make proper fitting a top priority with every customer. We share our knowledge about fit and we will work with you (and your professional foot care specialist, if needed) until we find the perfect fit.
Stop by Deb's Shoe Gallery today, where "The perfect fit is always in style ".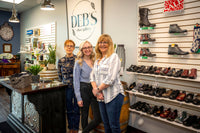 Location
Our Store
1119 Lakeshore Rd, Sarnia, ON, Canada
Monday to Friday: 10:00am to 5:00pm
Saturday: 10:00am to 3:00pm
Sunday: CLOSED

Phone: (519) 491-8811